Are you missing out?
We take a closer look at worldwide holiday rental marketplace, HomeAway, and discover that it's never been easier to start capitalising on Cornwall's growing holiday market.
A world of potential
You may well be aware that Cornwall's popularity is on the rise as a holiday destination. Not only has the increase in popularity for 'staycations' led to many Brits choosing to holiday here; the word has well and truly spread that Cornwall is the place to be for those looking to explore rugged coastlines, quaint fishing villages and long country walks. It's a go-to destination for art lovers too, with destinations like St Ives and Padstow famed for their quality of light, attracting world-class artists from around the globe. And that's not all. Cornwall has become one of the UK's foodie capitals thanks to a winning combination of homegrown produce, including sustainably sourced local seafood and the seasonal veg that flourishes in the Duchy's milder climate.
And yet, despite all of this, there is a great deal of untapped potential – a whole world of opportunity. According to the 2018 report from Savills – Second Homes Spotlight 2018 – Britons are showing a greater tendency now to invest at home, with 37% now citing the UK as their top choice for their next purchase. This is up from 31% in 2011, showing that more in the UK are beginning to capitalise on global holiday trends, but that many are still not realising their potential. People are looking for ways to make extra money on the side.
Introducing HomeAway
This is where HomeAway comes in. HomeAway is a world-leading holiday rental marketplace, specialising in maximising the potential of both second homes and primary residences in key tourism locations around the world.
That's right – you may not have thought about it before, but whether you live in Cornwall or own a second home here, there are already over 8,000 Cornish properties on HomeAway, meaning there is definitely a substantial extra income to made, by simply renting out your property when it would otherwise be vacant. After all, you've worked hard to buy your Cornish home – isn't it time it started earning its keep?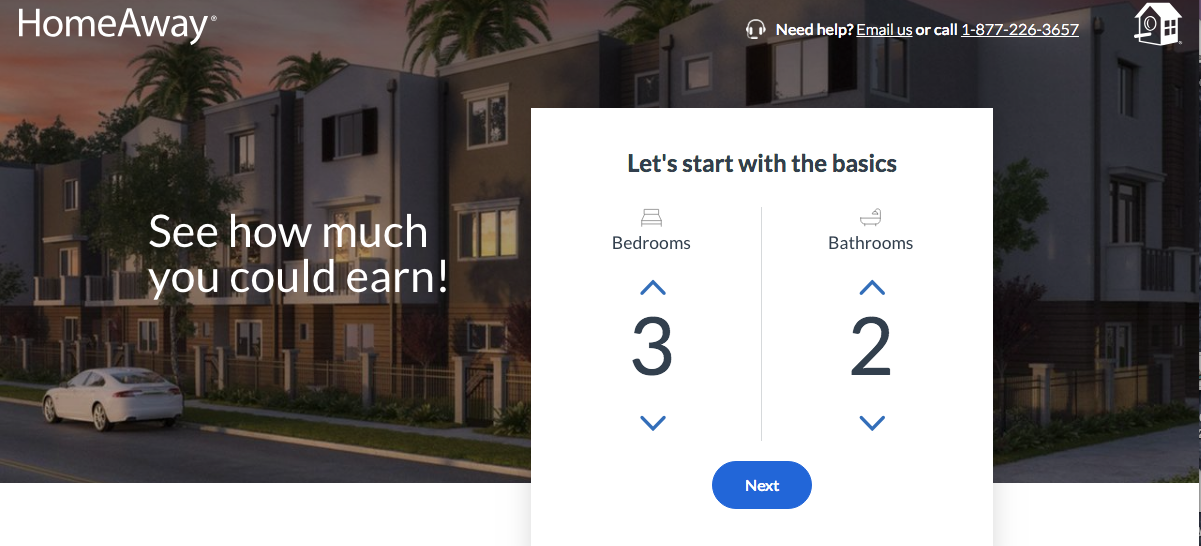 This additional income you could potentially earn could then be put towards a number of things, whether it's covering school fees, helping to pay off your mortgage, paying for home maintenance or an extension, or even giving it that long-desired interior makeover! It could also be put towards the cost of your dream family break. Did you ever think you could make a profit by going on holiday?
So what's the catch?
By this point you're probably thinking 'what's the catch?' and honestly, it's hard to find one. We'll admit that when we first heard all of this, we found ourselves asking the same question. Keen for answers, we decided to do a little digging.
If your goal, like us, is to live the ultimate lifestyle by the sea, or you want to spend as much time as you can in Cornwall with your family, you too will be excited by the prospect of maximising your earnings in the easiest possible way. You will also be pleased to hear that HomeAway is meticulous about how it helps you with this, keeping ahead of the curve by monitoring the trends of every holidaymaker segment the world over and delivering the results in a way that's easy to understand, ultimately helping you manage your property in a way that always capitalises on its potential. In fact, on the HomeAway platform, demand for homes in Cornwall is by far outstripping supply, indicating that the time to seize this opportunity is now!
Indeed, HomeAway is a hub of digestible information, keeping you abreast of everything you need to know from tax obligations and the rules and regulations of renting, to marketing your property, where to put your belongings when you go away, how to respond to enquiries, the list goes on.
The platform's key objective – aside from maximising your income – is making your experience as easy as possible, which is why it pairs all the necessary tools with pertinent, easy-to-understand analytics, delivering it all to you in a comprehensive package that helps you understand the market and effectively manage your property – especially useful when you're managing a property from somewhere else in the UK.
So back to the catch, or the lack thereof. Firstly, HomeAway's online dashboard and 24-hour support mean you can keep track of everything pertinent to you and your property, in one place, and have any questions answered in moments. There's also an easy-to-use mobile app, allowing you to do all of this on the go, wherever you are.
Most importantly, you can try it once and if it's not for you, that's fine. If it is, that's great – you can keep renting your property as much or as little as you like, and stop whenever you see fit. It's entirely up to you. There are flexible options to get started and it only takes a few minutes to list your property.
Putting your mind at ease
You probably still hold some reservations, and that's completely understandable. One is what assurances you'll have against any damage to your home. HomeAway's answer to this is three-part: firstly, the platform is proud to attract families and groups that stay for longer periods, book far in advance and have higher than average booking value.
Secondly, you'll always be in control of who stays at your property. It's common to have questions for travellers, or to want more information about a booking request. With the HomeAway dashboard, you can contact the potential renter at the push of a button, saving you time and helping you decide whether you want them to stay in your property. You may also be interested to know that each year sees more older couples visiting Cornwall – particularly during the normally quieter season – often looking for short breaks, which may help offer you some peace of mind.
Lastly, HomeAway's Liability Insurance Protection covers up to one million US dollars, which provides legal protection and peace of mind. HomeAway also has 24-hour customer support, with a team of dedicated experts always at the ready to help you through the process.
Testament to this company's prestige, HomeAway is part of Expedia Group – one of the world's leading travel companies, with an extensive brand portfolio that includes some of the world's most trusted online travel platforms. An industry authority since 2005, HomeAway boasts one of the most simple yet powerful revenue management tools, at your disposal and designed to maximise your revenue.
What's next?
The growth of new Cornish properties that have signed up to the HomeAway platform in the last month alone is firmly in the double digits, each one representing a homeowner, couple or family that's finally living their dream lifestyle, simply by tapping into the potential of their home. It seems to us that there are more reasons to try HomeAway than to not, especially when you consider that there is absolutely no obligation to continue renting your property if you find it's not for you. To start with – and to satisfy your curiosity – why not try out HomeAway's 'How much could you earn?' calculator and discover your earning potential? In a matter of moments you can discover just how much extra money you could be making. You never know, it may be the first step towards living your dream lifestyle by the sea!
HomeAway
www.homeaway.co.uk
Discover More
HomeAway is part of Expedia Group – one of the world's leading travel companies, with a brand portfolio that includes some of the world's most trusted online travel platforms.
there is a whole world of untapped potential for Cornish homeowners – potential to make a significant additional income