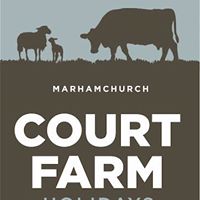 Court Farm Holidays
With Bude winning the 'Best UK Coastal Resort' for two years running at the British Travel Awards, we've found the perfect retreat. Court Farm is set in a gorgeous, quiet village location in Marhamchurch, just two miles from Bude's wonderful beaches.
It's the perfect destination for the ultimate family holiday, with a wide variety of child-friendly facilities including cots, highchairs, bed guards, and booster seats, all available to use at no extra cost. What's more, there's also the option to hire buggies, wetsuits and body boards, so you don't need pack the car to the ceiling with half your home – making it a truly stress-free experience. You can even bring the pooch too, if staying in one of the dog-friendly cottages with private gardens.
Looking to get ahead for 2019?
For a limited time only the Court Farm team are offering a 5% Earlybird Discount for any 2019 bookings - just quote 'CLEarlybird19' when booking online and the team arrange your discount when the booking goes through!
COURT FARM HOLIDAYS LTD
EX23 0EN
01288 361 494
07813 594 056
VISIT WEBSITE