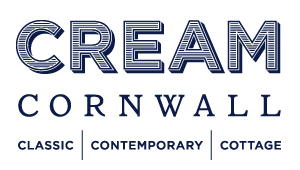 Cream Cornwall
Rebecca Heane and Alison Hughes founded Cream Cornwall in 2012 after discovering a shared passion for creating products evocative of Cornwall that were tasteful, high quality and made in Britain.
With a shared vision agreed upon, the pair went back and forth on a list of Cornish place names and associated words before one leapt off the page; Cream! It wasn't just a reference to the colour, the food they both love or being the "best of ", but it's safe to say the infamous nightclub in Liverpool and Rebecca's crush on Eric Clapton in her teens also had a bearing on the choice of name!
The pair were so excited when they got their first samples of mugs that they put them in Allison's front window. When people started knocking on the door wanting to buy them, they knew they had created something people wanted. This led them to starting their initial online business, wholesaling to shops throughout the UK and overseas, before opening the business' first shop in Falmouth 2016.This was followed up in July this year when they opened in St Ives.
In each beautiful product you'll find Cream Cornwall's distinct coastal identity - inspiration for which Rebecca and Allison find everywhere- and their shared background in textiles, design and trend forecasting affords the entire range a level of quality and attention to detail that keeps customers returning time and time again.
Cream Cornwall
51 Church Street, Falmouth, TR11 3DS
57 Fore Street, St Ives, TR26 1HE
6-7 Lemon Street, Truro, TR1 2LQ
01326 317253
VISIT WEBSITE