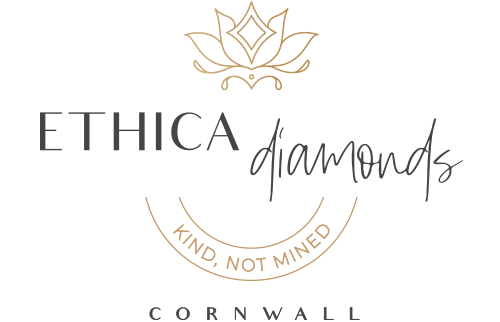 Ethica Diamonds
Pioneers in ethical alternatives to mined diamonds and one of the first companies in the UK to offer such, Ethica Diamonds is an independent jewellery business, run by mother and daughter, who decided to do things a little differently. They only sell Ethica Diamonds,
a lab grown gemstone
with nearly identical provenance as diamonds, or fully sustainable lab grown diamonds, certified carbon neutral and grown using 100% renewable energy.
Ethica don't offer anything that is not in line with their core values, which is why you won't find them selling any natural diamonds, and they specially select their lab grown diamonds to ensure they are grown in a sustainable way. "Nearly all lab grown diamonds in the world still cannot claim to be sustainable, since the energy used to grow them is from power stations in India or Russia. This didn't feel like the right fit for our business, which is why we sought out the only diamond grower in the world who grows diamonds using 100% renewable energy. These diamonds are really special and rare for this reason, since they are the first diamonds in the world that can claim to be 100% sustainable, and they make up for less than 0.1% of all diamonds worldwide." Furthermore, any gemstones they use are also either lab grown or 100% assured to be ethically sourced. This way, you can trust that the stones they use are always socially and environmentally responsible; these are the foundations on which the business was built and remains one of the core pillars of their business today. Furthermore, the precious metals they use are either recycled or Fairtrade, since they are a fair-trade registered jeweller, and their packaging is plastic-free and made from 100% recycled or recyclable materials.